Jasmine M. Fairfax, B.A.
Office Manager
Jasmine M. Fairfax is the office manager for the Behavioral Wellness Clinic in Tolland, Connecticut. She ensures that operations are running smoothly and oversees the work of the other office staff. This includes billing issues, intensive outpatient programming, and contracts management.
More about Jasmine.
---
Daniel Zalewa, B.A.
Client Specialist
Daniel Zalewa handles scheduling, payments, explaining treatment programs to new clients, and conducting community outreach. Daniel graduated from the University of Connecticut with a bachelors in Psychology, and plans on pursing a graduate degree in Marriage and Family Therapy. Outside of the office, he enjoys running, exploring museums, and catching up on the latest movies.
---
Jade Gallo, B.S.
Client Intake Coordinator
Jade Gallo is a part-time administrative assistant for the Behavioral Wellness Clinic and for Dr. Jordan Sloshower. She handles the financials of our clients, as well as maintains correspondence with them, among other responsibilities. She graduated from the University of Connecticut with a Bachelor of Science in Psychology, with Criminal Justice and Digital Marketing minors. Her dream is to have her own clinical practice one day. When she is not on the clock, you can find Jade out and about with her friends, listening to music, reading, or loving her dog.
More about Jade.
---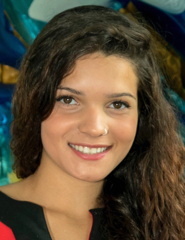 Zoe Jahn
Therapist Assistant
Zoe Jahn is one of the administrators for the Behavioral Wellness Clinic. She takes care of client intake, phone calls, emails, payments, scheduling, and general office maintenance. She is a student at the University of Connecticut in the pre-medical field of study, and she intends on becoming a physician. In her free time, she enjoys dance, travel, trying new foods, and spending time with her friends.
More about Zoe.