Cheryl O'Neill, MA
Ontario Registered Psychotherapist (Qualifying)
Therapist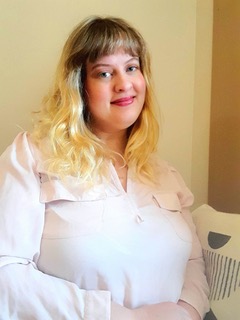 Originally educated to be an elementary school teacher, Cheryl O'Neill found herself changing career trajectory upon the realization that her strengths lie in her comforting presence, her one-on-one interactions, and her drive and passion for mental health. From both professional observations and lived experience, Cheryl developed a sense of advocacy for mental wellbeing in youth, and currently works primarily with adults and adolescents aged 6 and up.
Cheryl holds two undergraduate degrees - a BA and a B.Ed. - from Bishop's University, located in Quebec, Canada, as well as an undergraduate certificate in Human Psychology and a minor equivalent in Psychology. She recently completed her MA at Wilfrid Laurier University's Martin Luther University College and is a CRPO Registered Psychotherapist (Qualifying) licensed to work with clients located in Ontario, Canada, both in-person and virtually through our Canadian location.
Cheryl believes in the importance of using an integrative approach with clients, drawing from a variety of evidence-based interventions selected to accommodate clients' individual needs. While primarily using ERP, the gold standard treatment for Obsessive-Compulsive Disorder, when working with OCD as a presenting issue, she may also draw from DBT skills, mindfulness interventions, or a psychodynamic approach when appropriate. Above all, Cheryl acknowledges the importance of the therapeutic alliance as the most valuable factor in therapeutic success, and prioritizes creating a safe, warm, and nonjudgmental space for clients. Other areas of professional experience include trauma, disordered eating, and interpersonal struggles.
Passionate about social justice and equitable rights, Cheryl takes steps to ensure a culturally and spiritually informed practice that understands the nuance of personal and systemic experiences related to race, gender, sex, sexual orientation, and ability.